Main Street
Why work for a company when you can own one?
Design System
Main Street was preparing for the next step. Until then, they had no designer working full time. They had only the Bootstrap framework customized with their web app's brand fonts and colors as a design system.
The Design System of a company is complex and ever-evolving. They wanted to prepare the ground to hire their first full-time designer and start developing native mobile apps. I should first migrate Boostrap's library from HTML/ CSS to Figma and then keep Bootstrap and Figma in sync while designing new areas of the web app.
Onboarding
Main Street helps its clients at every stage, from establishing an LLC to branding and marketing of the company. Everyone who has set a company knows how complicated and time-consuming the process is.
My mission was to help the user provide all the data needed to form the company, open a bank account, define services, branding, and marketing. All this info should be carried out in the most uncomplicated way.
I proposed to Zach Davis and John Salzarulo that we divide the data inputs into 4 major areas, each with its own subdivisions:
1. Sign Up
2. Company and Services
Estimate Engine
Most Main Street customers had little to no experience in the painting industry. Estimating costs is a crucial part of the business. Even for experienced professionals, making profitable, winning proposals is a big challenge. Therefore, Main Street wanted to provide a simple and efficient tool.
I worked with Ankit Gupta and an experienced painting professional to create one of the most complex projects of my entire career. I don't know most of the tools and materials involved in painting. The estimation engine is a challenge for business owners, and it was for me.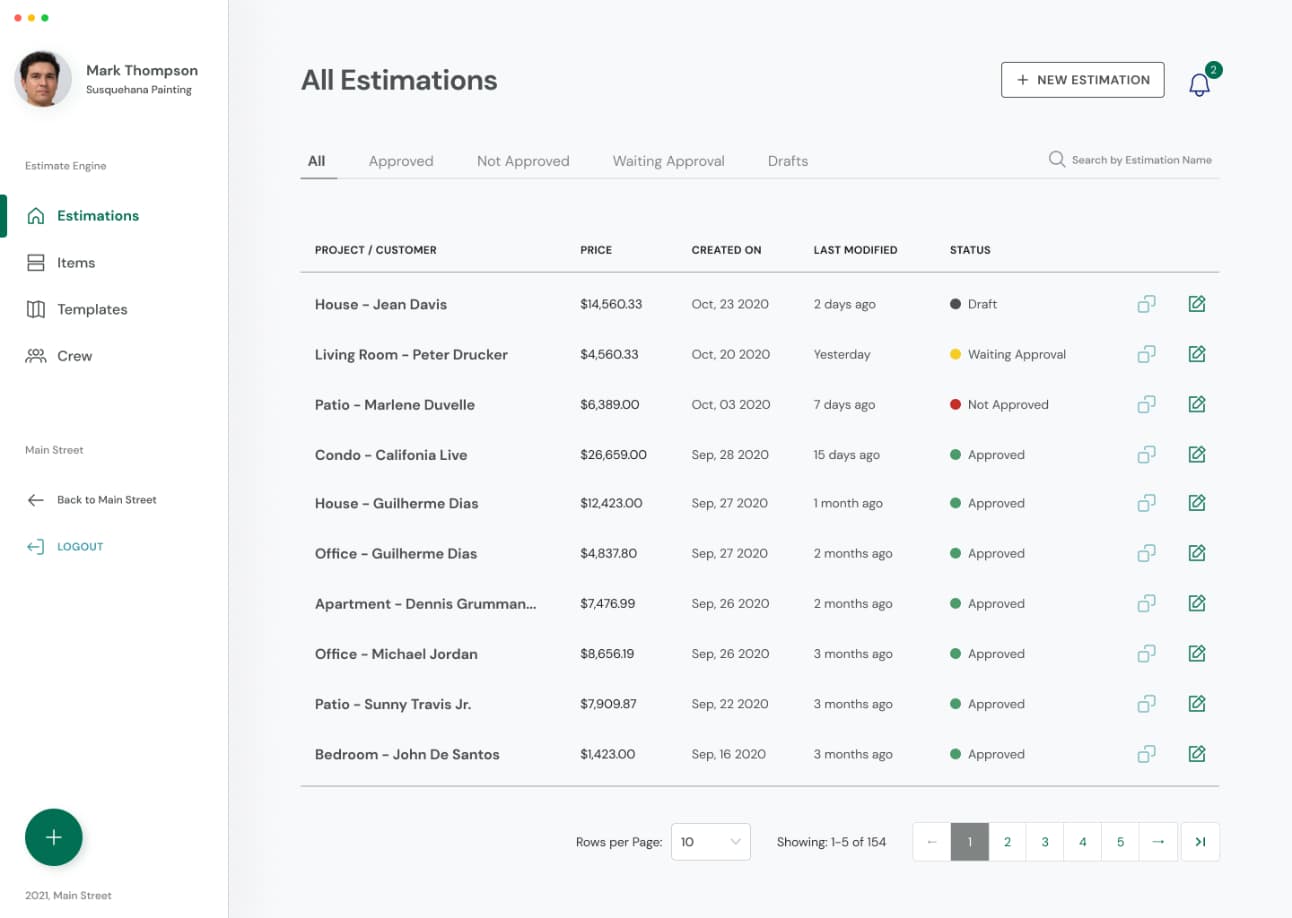 Production Management Tool
I worked with Frank Lee on a tool for business owners to remotely manage the painting crew.
Therefore this tool was divided into 2 apps:
Business Owner App
The Owner can check which areas have already been executed, review and approve the work done by the onsite crew.
Onsite Crew App
The onsite crew access all areas to be painted. Everyday they upload photos to show the progress until the owner approves the final work.
"Roberto is the best designer I ever worked with. His critical thinking and emotional design make any project shine."